Built-in Player of Free Music Tag Finder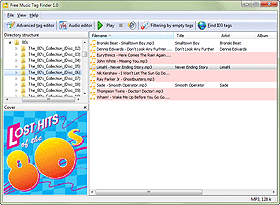 Download ID3 tags for your songs
Find audio tags by sound
Supports all popular audio formats
Free download
Free Music Tag Finder can download title and artist information even for songs that do not have any recognizable information in their tags or filenames. The program analyzes audio information and looks up matching tags using a vast internet database. Thus it is possible to download tags for files like 1.mp3 containing no tags at all.
You can select one of the available tagging services on the "General" tab of the settings window.
Once the correct tags are downloaded, you may want to check if they are correct. This can be done only by listening to the song in question and comparing what you hear to the title and artist details downloaded by Free Music Tag Finder.
Click the song you want to check in the list, then click the "Play" button on the toolbar of the program:

The built-in player of the program is used by default. After you click on the play button (the green triangle), a trackbar appears on the right. You can drag the slider to fast forward or rewind, or start playing from a certain position.
To stop playing, click the "Stop" button (the black square). The trackbar will disappear.
You can also adjust volume by clicking the speaker button on the right. This opens the volume control: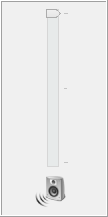 Drag the slider up to increase volume or down to decrease it. Click anywhere outside the are to hide the volume control.
It is also possible to use an external audio / media player with Free Music Tag Finder. Set up your preferred player on the "Playing settings" tab of the "Settings" window.