Free YouTube to MP3 Converter Studio 9.0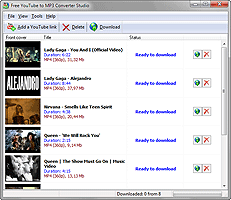 Download YouTube videos
Convert YouTube to MP3
High speed, high quality
Free download
Download YouTube music and save it as MP3
YouTube is a safe online service containing millions of videos, including music videos, lectures, interviews, and many other sorts. You can watch any YouTube video in your browser. However, it is not possible to download a YouTube video to a local disk or to a portable player.
Well, now you can download YouTube videos - with Free YouTube to MP3 Converter Studio! This small and user-friendly program is capable of doing two important things:
Download YouTube videos and save them as MP4 video files, compatible with iPad, iPod, and many other portable players.
Convert YouTube to MP3 or WAV.
The settings menu of the program allows choosing the preferred video quality to download. For example, you can choose to download YouTube clips in Full HD, and the program will always download videos in this quality. If Full HD is not available for a particular clip, the YouTube downloader will take the next best match (for example, HD Ready).
Free YouTube to MP3 Converter Studio can download several YouTube videos at the same time, which is why it can process an entire list of links in just a few seconds. This makes it faster than similar tools without affecting quality of the download / converted files.
Convert YouTube to MP3 to listen to your favorite YouTube music on your computer or on a portable player! With Free YouTube to MP3 Converter Studio you can create high-quality MP3 files with bitrate values up to 320 Kbit/s and frequency values up to 48 KHz. The program also extracts information about songs from YouTube and saves them into ID3 tag fields. A shot from the YouTube clip is saved as a cover image, the name of the clip is saved to the title field, the description can be saved into the comment field. Thus you will always be able to identify the downloaded YouTube music and search for a particular song using ID3 tag features of your player. Furthermore, the program fully supports unicode and has no problem saving correct information about Spanish or Japanese songs (for example).
As with other programs from MediaPro Lab, the YouTube downloader is completely free, which means that you do not need to pay for it in order to use all its features, and that it does not contain any viruses or malware.
Download your favorite YouTube songs easily with Free YouTube to MP3 Converter Studio!