Music Tag Finder: Playback Settings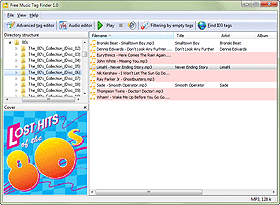 Download ID3 tags for your songs
Find audio tags by sound
Supports all popular audio formats
Free download
After downloading tags for your MP3, FLAC, and other songs with Free Music Tag Finder, you may want to check if the correct title and artist data were downloaded. If no other information is available, the only way to check would be listening to the songs. To start listening to an audio file, select it from the list and click the "Play" button on the toolbar of Free Music Tag Finder.
By default, the program uses the built-in player. However, you can change this and use any external audio player available on your computer.
To change the default settings, select "File" - "Settings":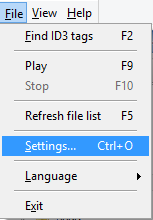 This opens the settings window of the program. The "General" tab will be selected. Click the "Playing settings" tab to open it: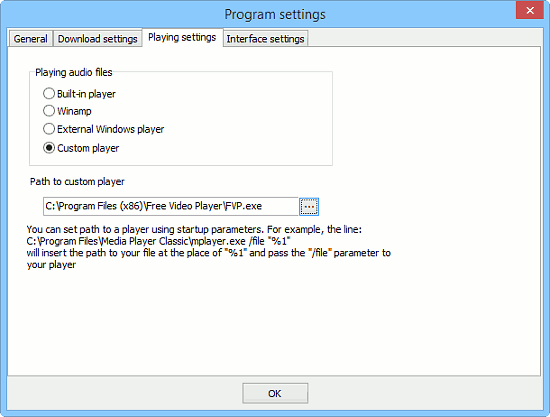 There are 4 available options:
Built-in player (default). Uses the simple built-in player of Free Music Tag Finder.
Winamp. This is a special option for one of the most popular audio players. Uses the API of the player to control playback.
External Windows player. This starts the default player for the corresponding file type. This would be the same as a double-click on the file in Windows Explorer.
Custom player. This option allows using any media player. After selecting this option, you will need to click the "..." in the field below and select the .exe file of your preferred player.
Click "OK" to confirm your changes and close the settings window.
Now, if you select an audio file and click the "Play" button, the file will be opened in the selected player.