Music Tag Finder: General Settings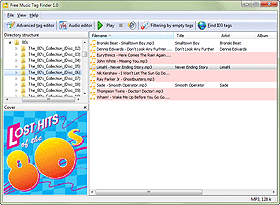 Download ID3 tags for your songs
Find audio tags by sound
Supports all popular audio formats
Free download
With Free Music Tag Finder, you can start to download missing tags for your audio files right after you install the program. No manual configuration is required. However, as usual, there are several things that can be adjusted. We can do that in the "Settings" menu.
Select "File" - "Settings":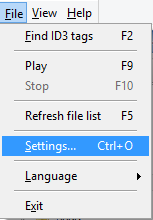 This opens the settings menu: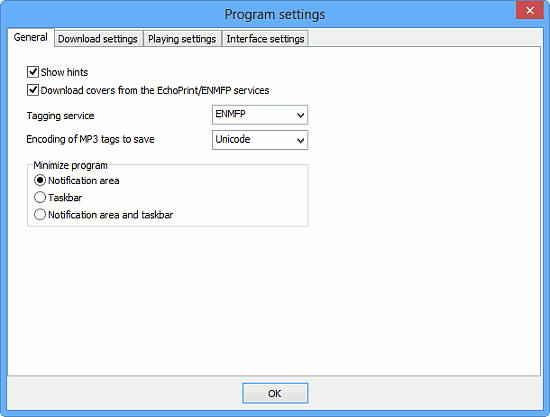 In this window, we can see four tabs: General, Download settings, Playing settings, Interface settings. Here we will discuss the "General" tab that opens by default. The other 3 tabs will be described in more detail in the corresponding sections.
"Show hints", when enabled, makes Free Music Tag Finder show popup hints when you point with the mouse cursor on this or that control (like a toolbar button). If this option is disabled, no popup hints will be displayed, but hints will still be displayed in the status bar of the program (at the bottom of the window).
"Download covers from the EchoPrint/ENMFP services", when enabled, additionally saves relevant covers into music files (using the corresponding "Cover" frame of the tag, if applicable). You can disable this option if you want to receive only title and artist information, but no covers.
"Tagging service" is a dropdown list that offers two options:
Echo Print. May deliver fewer matches, but for some music file it may be more accurate.
ENMFP. This service is used by default. It delivers accurate matches for the majority of music files.
"Encoding of MP3 tags to save" is an option that affects only MP3 files. When you download missing MP3 tags, information in ID3v2 is saved in Unicode. If your favorite player does not support Unicode, or you have no need for this encoding (for example, all your songs have only plain Latin characters in their titles), you can set Free Music Tag Finder to save ID3 in ANSI. Thus, the dropdown list contains two options here:
ANSI (usual encoding compatible with most applications and hardware).
Unicode (properly saves national characters, does not depend on locale).
The "Minimize program" option defines what happens if you choose to minimize the program's window:
Notification area. It's an area on Windows taskbar, normally in the lower right corner, near the clocks. Here, only small icons for various applications are displayed. Starting from Windows 7, the notification area does not have the same significance as previously, so for Windows 7 and later, "Taskbar" or "Notification area and taskbar" options are recommended.
Taskbar. This is the bar (normally at the bottom of the screen) where you can switch between various running applications.
Notification area and taskbar. This is a combination of the two previous settings.
After changing settings, click "OK" to confirm and save the changes.