Controls and Panels of Free Music Tag Finder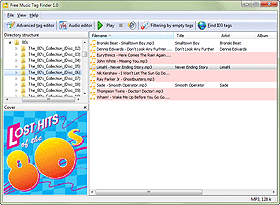 Download ID3 tags for your songs
Find audio tags by sound
Supports all popular audio formats
Free download
There are five default panels of Free Music Tag Finder, but in fact you can enable an additional panel (lyrics), which gives us the following setup: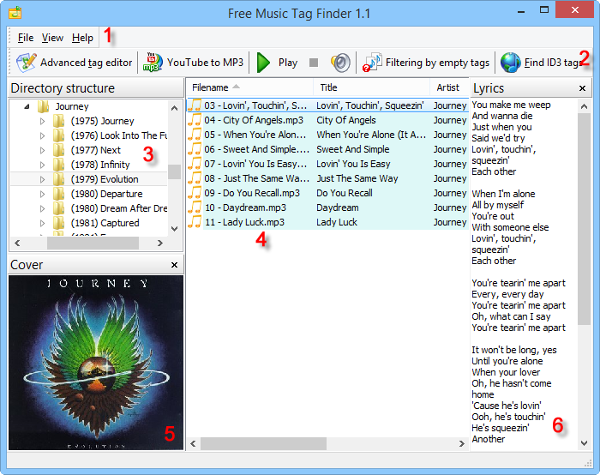 (1) The menu bar of Free Music Tag Finder contains 3 elements: File, View, Help:

"View" allows you to show or hide the "Cover" and "Lyrics" areas.
(2) The main toolbar of Free Music Tag Finder has controls for the built-in / external audio player (start/ stop) and a button for volume control. Additionally, there is a button that allows hiding files with tags (Filtering by empty tags) and the main button: Find ID3 tags.

(3) The "Directory structure" area is similar to the "Folders" area of Windows Explorer. It shows folders on your computer, allowing to expand and collapse directory trees.
(4) The file area shows files from the folder that you selected in the "Directory structure" area.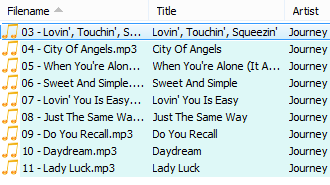 Information from tags is also displayed here. Additionally, color masks are used to distinguish between files with tags and files without tags.
In this area, you can edit tags directly by clicking the corresponding line / column and entering or correcting the information. Your changes will be saved automatically after you click on a different file.
To select all files, press "Ctrl" + "A". After this, you can click the "Find ID3 tags" button on the toolbar and start downloading missing tags.
(5) The cover area shows the cover saved inside the currently selected file (in the file area).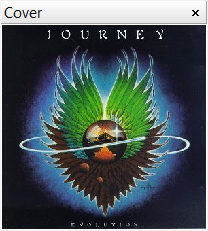 You can hide and show this area using the "View" menu item.
(6) The lyrics area is not shown by default, but can be enabled from the "View" menu:

Here, lyrics from the currently selected song is displayed. If no lyrics is available inside the file, the area will be empty. You can download lyrics for your music files automatically with Free Lyrics Finder.