Free Lyrics Finder: Interface Settings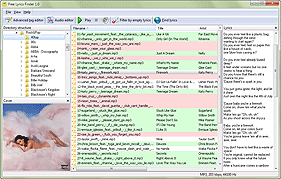 Download lyrics for your songs
Save lyrics inside MP3, FLAC... files
Automated lyrics search
Free download
When you start Free Lyrics Finder and open a folder with songs, in most cases filenames are black on a white background. After you download lyrics for the songs, the background changes to green. Sometimes you can also see filenames on a red background.
These are color masks that help recognizing situation with tags at one glance. Songs with tags (artist, title, year, album, etc.) but without lyrics aren't highlighted (the background color is white). Songs without any tags at all are highlighted with red. Songs with lyrics are green.
While Free Lyrics Finder can download lyrics for files without any tags (taking information from filenames), it is recommended to use Free Music Tag Finder to identify songs without tags properly.
You can adjust color masks to your requirements in the settings window of Free Lyrics Finder.
Select "File" - "Settings":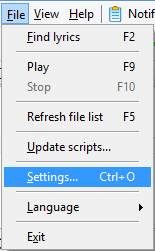 The settings window will be shown. By default, the "General" tab of the window is opened. Click on the "Interface settings" tab: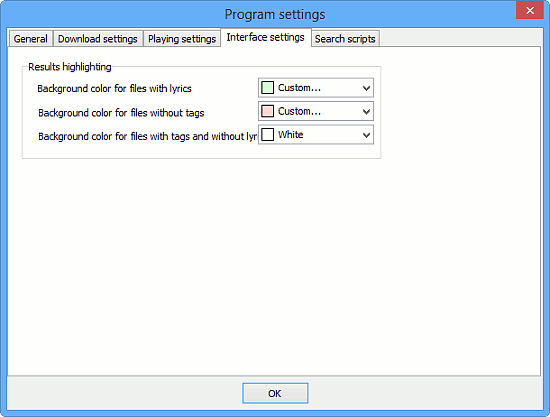 Select colors for songs with lyrics, without lyrics and without tags from the corresponding dropdown list: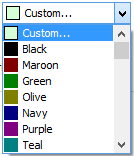 If your desired color is not available in the list, select "Custom". This will open a "Color" window: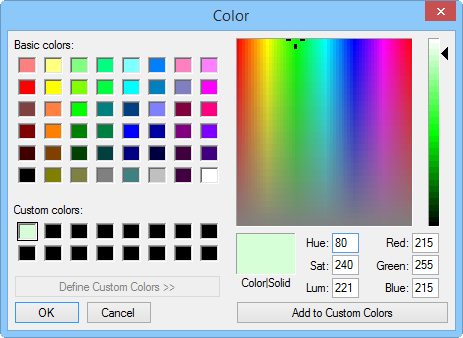 You can easily create your own colors by clicking on the desired color and adjusting its intensity with the slider on the right. After making a new color, click the "Add to Custom Colors" button to save it. Then click "OK" to close the "Color" window.
Confirm your new color settings with "OK", which will close the "Settings" window of Free Lyrics Finder.