Free Lyrics Finder: Download Settings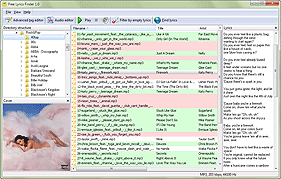 Download lyrics for your songs
Save lyrics inside MP3, FLAC... files
Automated lyrics search
Free download
You can start downloading lyrics for your MP3, FLAC, APE, and other music files immediately after installing Free Lyrics Finder. Just select songs and click the "Find lyrics" button. The program will automatically find lyrics and save it into the corresponding files.
However, this scenario will not work if your provider allows you connecting to the internet only through a proxy server.
In this case, select "File" - "Settings":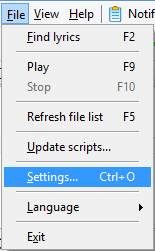 The settings window will appear. Switch to the "Download options" tab at the top of the window: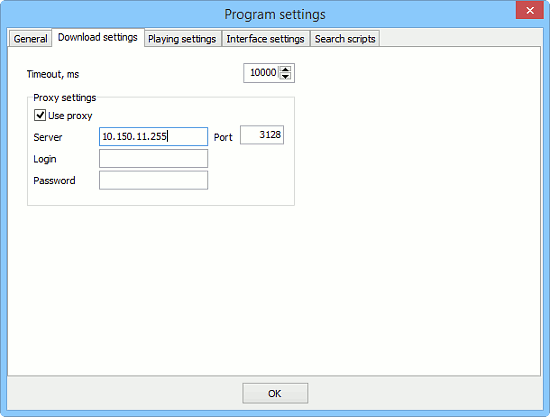 Here you can see two main items: Timeout and Proxy settings. Timeout (in milliseconds) defines how long Free Lyrics Finder should wait for a response from the remote server when the program is searching for or downloading lyrics. 10000 means 10 seconds. If your internet connection is slow, you can increase this value. Setting a value that is too big is not recommended, as the program will be hanging if remote server does not respond until the timeout cancels this.
Proxy settings is an area with 4 fields. "Server" should contain IP address of your proxy server. "Port" is for the proxy port that you should use on the server. "Login" and "Password" should contain your login and password data, if your proxy requires authentication. Do not enter anything here, if no authentication is required.
You can obtain your proxy data from your network administrator or internet service provider. Normally this would be the same data you use to get your internet browser working.
A proxy server can also be used for anonymous browsing.